Welcome to Modle.Play guides section.
This is where you will be able to find the guides to assembling some of our products which come flat packed, to save not only on the environment by reducing packaging but also to kickstart your (child's) DIY journey!
KLYMB ASSEMBLY GUIDE
Klymb package includes:

• 4 pcs of support frame semi-assembled, pre-drilled holes for easy assembly
• 12 pcs solid wood dowels as ladder rungs
• 12 pcs allen key screws
• 1 pc allen key
KLYMB Assembly Timestamps:

0:05 - Check items list in the description
0:18 - How to tighten screw
1:17 - How to test Klymb's leveling
1:55 - How to fix Klymb's leveling
2:08 - How to pair Klymb with Slaid and Kiub
---
KIUB ASSEMBLY GUIDE
Kiub package includes:

• 3 pcs of side panels
• 8 pcs of solid wood dowels act as ladder rungs
• 24 pcs allen key screws
• 1 pc allen key
KIUB Assembly Timestamps:

0:04 - Check items list in the description
0:07 - Where to begin
0:20 - How to fit rungs into place
0:30 - How to fit Kiub's top
---
Care Guides & Frequently Asked Questions (FAQs)
Before and/or upon making that purchase, here are some key considerations to take note of:
1. Wood is naturally antibacterial and antimicrobial. If there is a spill, just wipe with water is sufficient.
2. Ideally, coat your wooden item with food grade mineral oil or beeswax every year to preserve its natural properties.
3. Store in cool, dry place. If it was under rain, wipe dry with clean cloth before storing it.
4. There will be wear and tear on the existing coating as you hook and unhook the slide onto the ladder rungs. See step 2 for natural ladder rungs. For coated rungs, do note that the paint may peel over time, resulting in a different kind of rustic beauty.
5. Do not tamper with the screws, nuts and bolts that comes assembled in your product (unless you are required to self assemble).
6. If the wood chips due to rough handling, use a sandpaper (grade 180) to hand sand it down to your preferred smoothness before allowing your child to play / use.
7. Every item here is handmade; do not be surprised if you see unexpected dents or unwanted cuts. Feel free to reach out to us if you notice such accidental damage.
8. Product colours and grains may differ from the pictures you may see on the website or our instagram as wood is a natural resource and we cannot guarantee each batch to be the same. You may indicate in the remark column should you have a strong preference.
---
How to care for your BLOKSS & KEPING?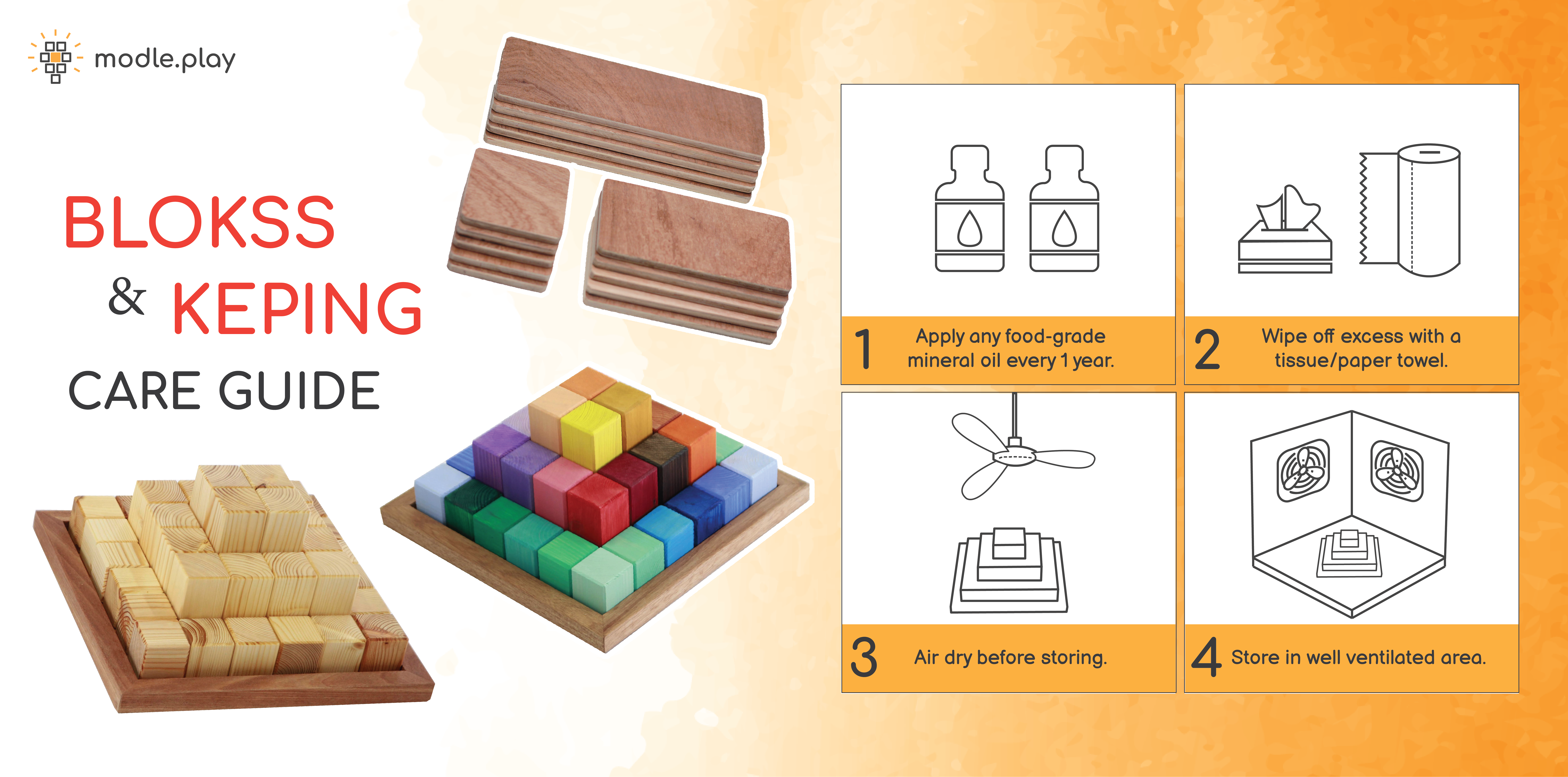 How to care for your KIUB, KLYMB, SLAID & STEPP?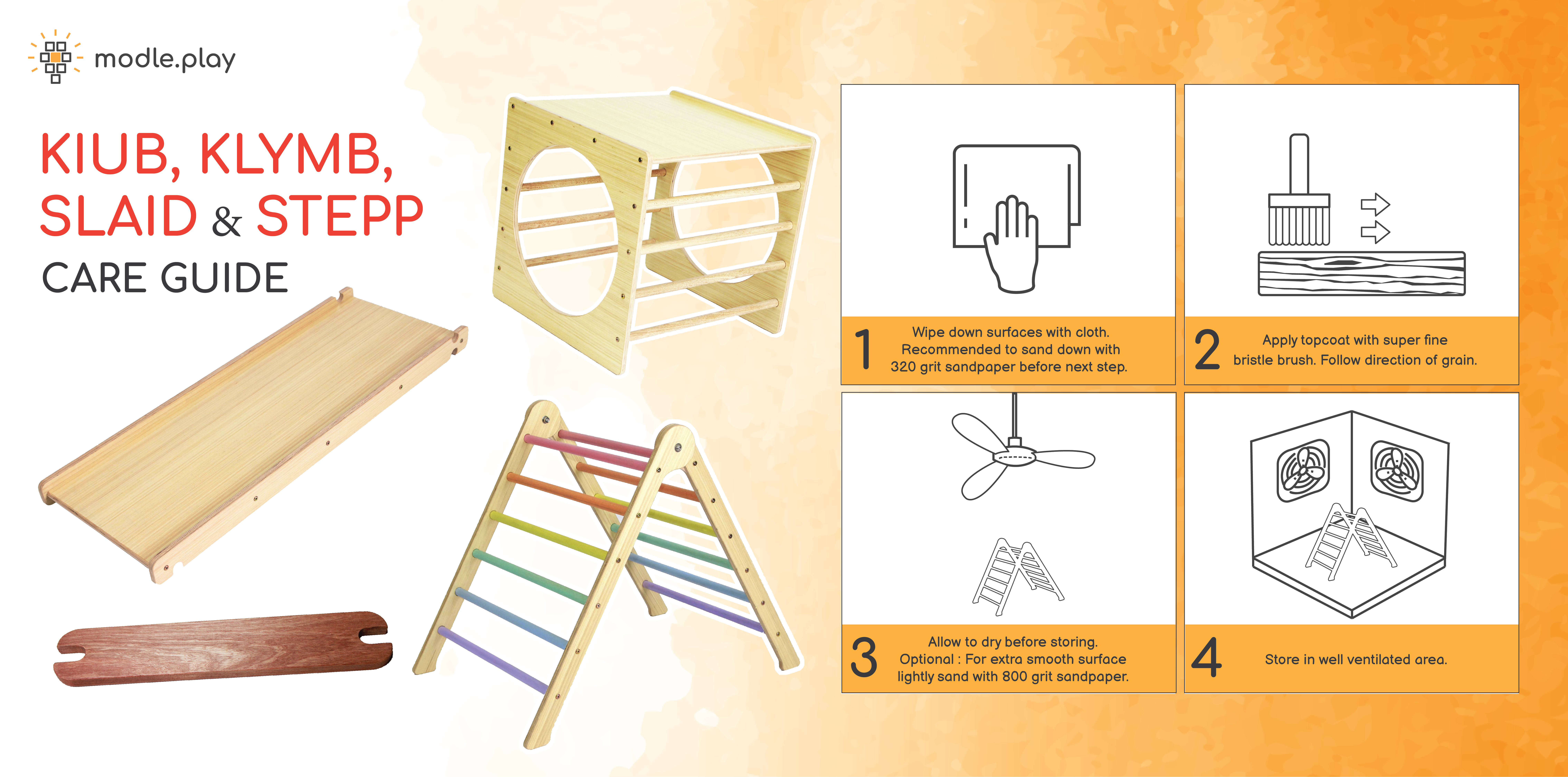 WAYS TO PLAY
Fine motor development/ DIY Skills